Have you seen me at Big Shot, Davenport's, or a wedding or house party? Then you've seen my enormous PLAYLIST of nearly 2000 songs and counting. Remember, you don't have to request something out of the book, but if it's in there, I definitely know it. And now you can find your favorite song from the comfort of your computer. Click below!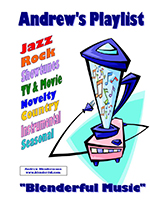 View Andrew's entire playlist (PDF)

...you can even download the Playlist as a MS Word document, so you can get the exact songs you want! Just follow these steps:
Download my playlist here. The document should be about 20 pages long. I use MS Word, the "Gill Sans Ultra Bold" font for the headings, and the "Times New Roman" font for the body. If you don't have these specs, the file may not look exactly right - but the actual song names will still be there.


There's nearly 2000 songs to choose from - you can narrow down my selections to make sure I play some songs you like. There are several ways to do this:



Go into the "Playlist" file and highlight or italicize the songs you want
Go into the "Playlist" file and delete all the songs you don't want (this takes some work, but it makes for a nice neat return list)
Cut and paste your songs into an e-mail



Can't find a song you're looking for on my playlist? Request it anyway! I can't guarantee I can learn every request, but I'm always looking for new songs and ideas to add to my repertoire.


Send me your list! Either put your songs in the body of an e-mail, or re-save the "Playlist" file and send it back to me as an attachment.
If you have trouble downloading the file, contact me and I can figure out some other way to get it to you (mail, fax, e-mail, carrier pigeon).

| | | |
| --- | --- | --- |
| 1. | Find a song you like on the playlist | (I can play any song that's on the list – and even a few that aren't) |
| 2. | Write the song on a Request Card | (…or just an artist, or the name of your bachelorette, or whatever…) |
| 3. | Put the song on the piano in front of me | (You could whisper in my ear, but I might forget it) |
| 4. | If you'd like to add a tip, put it with the Request Card, not in the Tip Bowl | (Tipped songs tend to get played sooner) |

| | |
| --- | --- |
| Q: | "What's an appropriate tip?" |
| A: | It's up to you – but generally, tips fold, they don't jingle. |
| Q: | "I really hate the song you're playing right now – how do I make it stop?" |
| A: | If someone put up $1 to play that song, you can always put up $2 to stop it. |
| Q: | "When should I show up?" |
| A: | Basic rule of thumb: the music will tend to start out conservative (jazz standards) and progress toward the unconventional (T.V. theme songs). If you're a Sinatra fan, come early. If you wanna rock, stick around. |
| Q: | "You're playing all this jazz and showtunes, but I like rock and roll – help!" |
| A: | I try not to make too many violent mood changes in the music – if I'm playing "Moon River", it's unlikely I'm gonna get to your Skynyrd song anytime soon. |
| Q: | "Someone in my party is having a birthday – what do I do?" |
| A: | If someone in your party is celebrating something (birthday, wedding, new job, operation), I can probably help the celebration. Put their name on a Request Card, and I'll create the hooplah. |
| Q: | "Can I get up and sing a song?" |
| A: | This is not karaoke – however, if you must sing, I'd much rather see "Can I get up and sing?" than "Can my (friend/girlfriend/husband/drunk co-worker) get up and sing?" |
| Q: | "How can you not know my favorite song ever?" |
| A: | I'm always trying to increase my repertoire – write it down anyway, and maybe I'll learn it… |
| Q: | "Can you play Stairway To Heaven / Freebird / In-A-Gadda-Da-Vida?" |
| A: | No. Really, no. Other things that may not translate well to piano: rap, guitar heavy rock (B.B. King, Stevie Ray Vaughan), female vocalists (do you really want me to try and sound like Celine Dion or Madonna?) |
| Q: | "Why didn't you play all the verses of American Pie / We Didn't Start The Fire?" |
| A: | My shift is only so long – and I'm trying to get to everybody's requests. |
| Q: | "Do you play private parties or weddings?" |
| A: | Yes, I do - take my business card, and call me! |